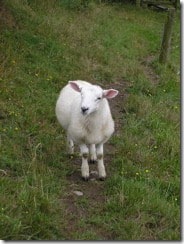 In Psalm 23:3, King David writes, "he leads me in the paths of righteousness for His name's sake."
While there is benefit to me in walking a path of righteousness, my benefit is not the primary purpose of God's leading me. David points to God's reputation and God's purpose as the reason for the leading.
This is freeing and challenging at the same time. It is freeing because I am not responsible for the outcome, I am only responsible to go where I am lead. God will take care of the rest.
This thought is challenging because the consequences of not following are great. Not that I can thwart God's plan by being disobedient, but I will miss out on the blessing of being used by God if I do not follow.
I am writing this post from a men's retreat where the speaker shared about some personal tragedies in his life. When he was going through the tragedy, he had no idea how that experience would be used by God in the future. With hindsight, the speaker was able to share how those experiences prepared him to be used to touch the lives of others who had experienced a similar loss.
Somehow I need to keep in mind that both the good and the bad experiences are allowed into my life by God for his purpose and his glory. God or bad, the experience should cause God's name to be glorified. This will keep me from being overinflated by the good things and from being decimated by the bad.
Soli deo gloria