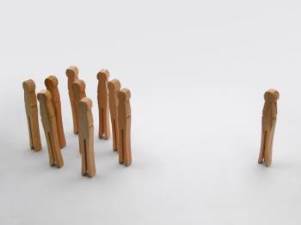 Grace is a word that Christians frequently use, too often glibly and without proper thought. For example, I have been in several churches with Grace in their titles who offered very little of it to the people who attend.
We all want grace, but sometimes struggle to give it when it is most needed. Perhaps this is why Jesus placed such an emphasis upon forgiveness, going so far as to say that He will not forgive those who refuse to forgive others (Matthew 6:15). Offering grace must be intentional and is sometimes difficult because it goes against our natural inclination.
What is even more bothersome to me is that in some churches, selective grace is offered. Selective grace is in operation when some people receive grace and others do not. Often this is due to the background of the person who needs grace.
In a denomination that I formerly attended many of the pastors would often refer to their drug abuse in their "B.C." days. They would use their former behavior as an illustration of God's grace, and rightly so. They did indeed receive grace and despite their past failures God uses them in ministry.
The problem comes in when some other sins are less likely to receive grace. In some churches, those who have experienced divorce, those who struggle with same sex attraction, those with mental illness and those who might disagree on minor points of doctrine receive anything but grace. Even in that denomination with the formerly drug addled pastors, selective grace was a struggle and some people were treated in a manner inconsistent with grace.
Let's be honest and admit that sometimes we encounter Christians who make us uncomfortable. If we do not make a conscious effort to build bridges with those who make us feel uncomfortable, then we are likely to withhold grace from them.
Some make us uncomfortable because of their background or lifestyle. It is as if we want everyone cleaned up completely after becoming a believer. The problem is that we are all in the process of being cleaned up, yet sometimes we hold others to a standard we can not meet.
I have been in churches where those who came out of a "sinful" lifestyle continued to be suspect, no matter how they progressed in their relationship with Jesus or their understanding of Scripture. Sexual sins in particular seem to put people on the suspect list. I have also known of churches where divorce was treated as if it was the unpardonable sin.
Perhaps even worse than this is to withhold grace over a difference in belief or practice. Examples of some issues over which we might withhold grace are these:
How the gifts of the spirit are manifested
How prophetic portions of Scripture are to be interpreted
Whether a person is liberal or conservative in their politics
The preference or abhorrence of liturgy in the worship service
This is not an exhaustive list, we could find many more issues over which Christians have divided.
We cannot be selective in how we demonstrate the grace of God in our lives. We need to follow the example of Jesus in the way he was gracious to everyone, including the Pharisees. Ephesians 2:8-9 is often quoted as indicating that we are saved by grace, yet the verses preceding verse 8 set the correct context.
"And you were dead in the trespasses and sins in which you once walked, following the course of this world, following the prince of the power of the air, the spirit that is now at work in the sons of disobedience— among whom we all once lived in the passions of our flesh, carrying out the desires of the body and the mind, and were by nature children of wrath, like the rest of mankind. But God, being rich in mercy, because of the great love with which he loved us, even when we were dead in our trespasses, made us alive together with Christ—by grace you have been saved— and raised us up with him and seated us with him in the heavenly places in Christ Jesus, so that in the coming ages he might show the immeasurable riches of his grace in kindness toward us in Christ Jesus. For by grace you have been saved through faith. And this is not your own doing; it is the gift of God, not a result of works, so that no one may boast." (Ephesians 2:1–9, ESV)
Apart from Christ, we were dead in our trespasses and sins. In other words, we crossed boundaries that should not be crossed and we fell short of the standard we know was in place. Yet, God gave us grace, the very grace that saves us.
How can we do anything less than offer that same grace to others? We must put an end to selective grace.